Touchstone Advisors provides merger and acquisition services to the lower middle market, utilizing decades of experience in the industry to provide the best possible path for each owner and family business we represent. We customize our services based on your unique situation and we work closely with our clients to achieve their goals.
Three Main Components of Our Practice
Sell-Side Mergers and Acquisitions
We are experienced merger and acquisition advisors and M&A investment bankers who specialize in selling privately held businesses primarily with revenues between $5 million and $100 million. When it is time to sell your business, our process is designed to be thorough, confidential, and attract a large pool of qualified buyers — the result: maximum value for business owners.
Competitive sell-side process resulting in multiple competing offers

Exclusive Representation for Sellers & buyers

Multi-Industry experience

Sterling reputation

Exclusive 10 step program developed for business owners who have plans to exit in the next 2-5 years.  The goal is to prepare the business for a future sale so that the transaction maximizes shareholder value.
Owner Readiness Review

Business Readiness Review

Business and Financial Assessment

Recast Financials

Range of Value
Tax Optimization

Acquirer Risk Assessment

Transition Options

Value Enhancement ideas

Bi-annual review
Touchstone's Buy-Side Services identify quality acquisition targets in the lower middle market.
Our process delivers:
Preemptive "off market" deals

Focused efforts leading to private one-on-one negotiations

Multiple choices for investment

Strategy-driven deals that add value on multiple levels

Proven multi-step process that develops screening criteria to identify, select, and negotiate the best deal possible.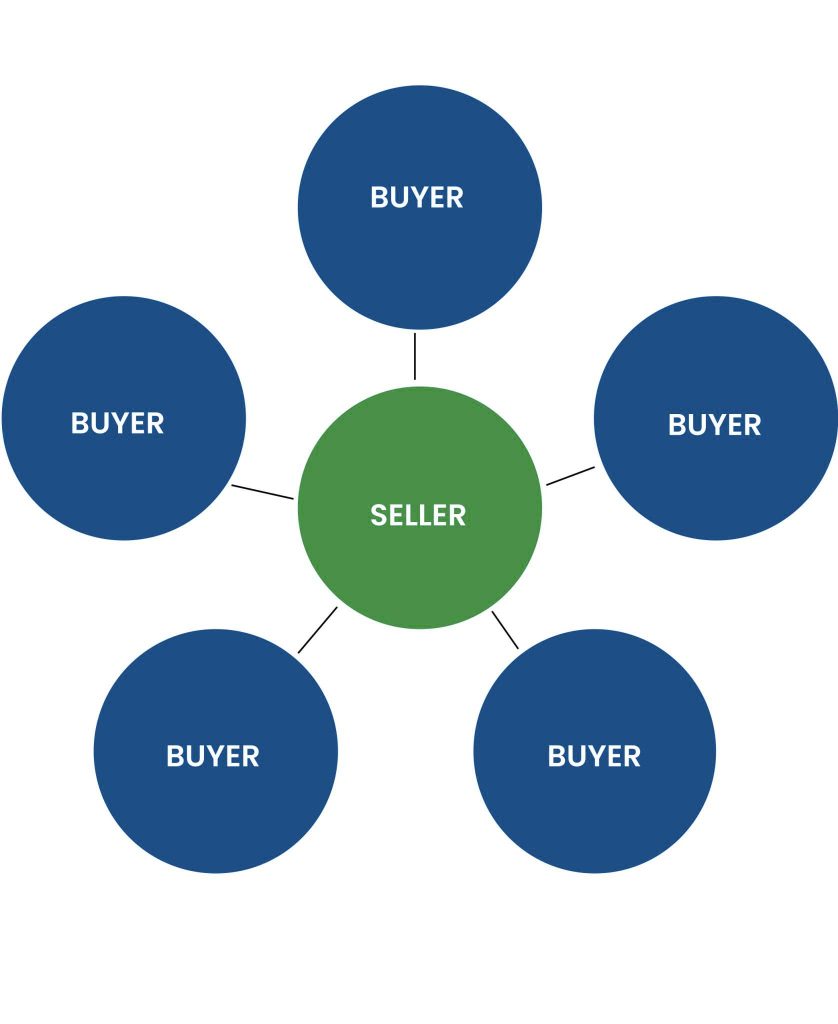 TOUCHSTONE ADVISORS CREATE A COMPETITIVE MARKETPLACE FOR YOUR BUSINESS
THE CONTROLLED AUCTION
Placing synergistic/strategic Buyers in competition with another will always produce a better price and terms for the Seller.
Our sealed bid process gives Buyers only one chance to submit their highest offer. This exerts upward pressure and essentially forces their hand to come in high rather than low as with a one-on-one situation. They simply can't risk losing the opportunity to a competitor of theirs.
Three Marketplace Principles
Traditional negotiation tactics often lead to disadvantages for the seller. Our goal is to find the best buyers and use our competitive process to secure the highest and best offers.
Touchstone's Estimate of Value (EOV) provides owners with a realistic understanding of their company's value in today's marketplace. Our cost-effective EOV is a science and an art. By evaluating your company and the current market, we can help secure your company's future.
We have more than 15 years' experience in mergers and acquisitions and time-tested EOV procedures. We provide accurate, timely, and realistic information for well-informed business decisions.
Our Estimate of Value allows us to evaluate your company's position in the market and establish a realistic baseline indicator of your business' worth if sold internally or to a third-party acquirer. This information is used for strategic planning when establishing the future of your company. 
Our EOV process uncovers data crucial for: 
Evaluating exit options available to business owners

Establishing a baseline value when buying or selling a business

Transitioning internally to the next generation from current management

Benchmarking and strategic financial planning
Investment Banking Services
Investment Banking Services
Touchstone Advisors provides investment banking services through Four Points Capital Partners, LLC, an independent broker-dealer. Touchstone provides personalized services with a focus on integrity and ethical conduct. Our investment banking team is highly skilled and, along with Four Points Capital, collectively touts over 100 years of banking experience resulting in billions of dollars in transactions. We partner with you to achieve your financial goals.
Touchstone Advisors provides capital raise services and focuses on filling the gap for growth-oriented, emerging enterprises ranging from early-stage ventures to more mature, middle market companies. We work closely with individuals to secure equity capital to fund growth initiatives, recapitalize the balance sheet, provide a level of shareholder liquidity, finance M&A transactions, and support management buyouts.
Touchstone Advisors provides the following services:
Convertible equity

Preferred equity

Venture capital

Majority equity

Minority equity

Mezzanine debt

Venture debt
Touchstone Advisors advises both privately owned and sponsored companies to secure debt capital or leverage finance for organic growth, acquisitions, dividend recapitalizations, and refinancings. We work with each individual, optimizing debt structures and securing the best long-term partners for our clients. 
Touchstone Advisors provides the following services: 
First-lien/senior secured loans

Second-/split-lien facilities

Mezzanine debt

Unitranche facilities

Asset-based loans (ABLs)

Bridge and stapled financings

Structured equity capital.
Four Points Capital Partners, LLC, is an independent broker-dealer whose mission is to provide financial services for individuals. Four Points Capital offers services including investment banking, asset accumulation, estate planning, sports advisory, institutional trading, wealth management, and more. 
We partner with Four Points Capital because of our shared commitment to providing personalized financial services to our clients.